'Mercy care' a winner and world first
A new way of providing residential aged care has earned a Mercy aged care facility in Ellerslie a 'highly commended' award from the New Zealand Aged Care Association and a world first Spark of Life Award.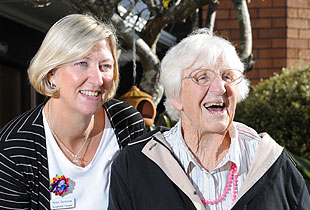 Awarded at the NZACA Conference in August 2011, the 'highly commended' award was made to Waiatarua Mercy Parklands for its development of Mercy Care, involving a shift from a medical to a life-based focus.
Mercy Parklands OT and Allied Health Manager Helen Delmonte explains the shift. "Our aim here is to ensure that all residents feel recognised and valued as unique individuals.
"We've undergone a culture change, from tending to treat older people as though they were all the same, to valuing each resident as an individual, able to make choices of their own and to know the satisfaction and sense of purpose that comes from those choices."
The new person-centred focus reflects Mercy core values, especially the dignity of every human being, and the healthcare philosophy of the Sisters of Mercy which urges that residents share as fully as possible in decisions that affect them.
The first steps in this change process followed Helen's becoming a master practitioner in the internationally recognised Spark of Life approach for people with dementia. "We were inspired to adopt the Spark of Life approach as the basis for a change of culture that would fully support our model of care."
Staff at all levels of Mercy Parklands were introduced to the Spark of Life. "It's an approach that helps to grow a compassionate culture – one that lifts the human spirit, breaks down barriers, and brings out the best in everyone."
In the past two years, several person-centred care practices have been introduced, with a focus on enhancing outcomes for residents and their families, as well as for staff and the facility. "These initiatives include clubs for people with dementia, one-to-one friendships between individual staff and residents, and family focus meetings," Helen explains.
So what's new at Mercy Parklands? A men's club now meets regularly, so do art and gardening clubs. The Pastoral Care team has developed The Ark, which offers liturgical services especially geared to small groups of residents with dementia. A technique called "bathing without a battle" has been introduced, aimed at reducing stress between residents and staff over this vital aspect of patient care.
Youngsters from the local community are being encouraged to interact with residents, 'move and groove' exercises are shared with children from a neighbourhood kindy, while college students visit and assist with activities, as part of their social awareness and career choice programmes.
As master practitioner for the Spark of Life, Helen Delmonte takes a lead role in training staff in person-centred practice. Clinical Manager Margi Montagu-Fryer also plays a part in linking Spark of Life to clinical services and in seeing that staff know how these changes relate to their professional development and career options.
CEO Ann Coughlan has given the Mercy care focus her full support. "Our goal here is to create a centre of excellence in clinical care, ensuring best practice with a clearly defined framework. Early feedback from residents and their families shows they are very willing to help us to move forward."
Updating this story: In February 2014 Waiatarua Mercy Parklands became the world's first Centre of Excellence for the Spark of Life approach to dementia care.
Click here to read more on our news page in the story 'World first for Mercy Parklands.