McAuley's vision: good today, better tomorrow
For more than 10 years, Anne Miles was principal of McAuley High School, a college for girls founded by the Sisters of Mercy in 1963 and a diocesan integrated school. In 2014 she was a winner in the Fairfax Women of Influence awards, and also received a special commendation from Bishop Pat Dunn when he came to bless and open new buildings at the school.
During her time as principal, Anne Miles saw a dramatic rise in the achievement of Maori and Pacific students and an increase in roll numbers. Around 88 percent of the roll of 750 at McAuley High School were Pacific students. More than 90 percent of students achieved NCEA and 75 percent gained University Entrance.
The school is designated decile 1, which means that many of its families struggle with low levels of economic viability. But Anne Miles resists the tendency to label McAuley a 'low-decile school.'
"Calling a school low-decile often assumes low expectations," she says. "We have high expectations and achieve at the same level as those in decile 8 and 9 areas. We believe in our students and we have faith in their abilities."
Anne Miles admits that the school's expectations are high. "We recognise that Christ is present in each of our students; we respect them for their unique qualities and beauty. Our faith is the binding factor."
Cultural diversity means that many students move in two worlds. Close communication with parents has been crucial. "Discussion at information evenings provides parents with a clearer view of our vision to have strong young women.
"Staff also receive professional development on the background and cultural norms of our communities. They are encouraged to respect the rich cultural heritage our students bring with them to school.
"Students are invited to share that cultural richness. At school assemblies, we praise and encourage all success. At the heart of our school is love."
Where possible, the principal employs staff to reflect McAuley High School's diverse ethnicities. The school has Pacific language speakers on staff, who are often the first point of contact for families.
Anne Miles is quick to relate to Catherine McAuley's vision of education as a way of enabling young people to rise above the barriers of poverty. "Our school is a diocesan school with the Mercy charism. We believe in the potential of every student.
"We don't select students on the basis of academic prowess, but on the desire of families for a Catholic education. The gospel and Mercy values are at the heart of our school, and the reason we exist is because of Jesus Christ."
The school's Mercy heritage is reflected in how its buildings are named. Officially opened by Bishop Pat Dunn in September were a new administration block and a three-storey classroom block that boasts up-to-the-minute computing facilities and break-out spaces to allow innovative teaching. Known as the Moera Block, the classrooms honour former principal Sr Moira Feeney. The administration complex has been named the Mercy Block. Other names with a Mercy connection include the English and Technology block named after the Callaghan family, the Catherine Block and the Cecilia Block (after Mother Cecilia Maher, who led New Zealand's first Mercy foundation).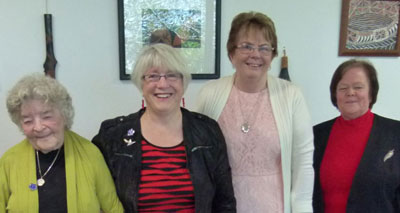 "Our Mercy heritage inspires us to service, and provides us with a wonderful example. Our gospel values guide us," says Anne Miles.
The school's approach is restorative, she says. "We support our families, our communities, our staff and students. We hope to enable them to grow in every dimension and to move into the community to serve others.
"Service has been the value we've highlighted this year. Our students understand the meaning of service and generosity. It is an enormous privilege to work with them. They sometimes come to school with large hardships on their backs and never complain.
"Catherine's first scholars also wanted an education, so they could make a difference to their families. Our students are immensely proud of being a 'McAuleyan'."
In a Good Practice report in 2014, the Education Review Office noted that McAuley has extremely effective systems to link with the local community and to gain a deep understanding of the circumstances of its students. School leaders "act on the information gained to ensure that all students arrive at school in full uniform, fully equipped and ready to learn." When students start school, "they already have a sense of belonging and wear their uniform with pride," the ERO observe.
And what of the future? Anne Miles says the school's strategic plan identifies clear goals. "Our aim and vision of providing a Catholic education which is centred in Christ remains constant.
"We want all students to leave school with a career plan, move in to employment and be able to achieve their goals. This means that we strive to enable as many as possible to gain University Entrance. And we want to increase the percentage of students achieving with Merit and Excellence endorsements. We will continue to promote excellence.
"But our priority remains our hope that McAuley High School students leave with a deep faith, that they contribute actively to parish and society, believe in themselves and have inner strength.