College supports migrant women's refuge
Students of St Mary's College, Wellington, worked hard during Mission Month in June 2014 to raise funds to help open a safe house for Shakti in Wellington. This is a not-for-profit community organisation that specialises in supporting women and children of Asian, African and Middle Eastern origin who face domestic or family violence.
The need was highlighted in the Capital after two women were murdered as a result of abusive relationships in the past 12 months.
Pupils from St Mary's College ran raffles, held a sausage sizzle, sold plants and baking, and sold t-shirts of two different designs. As well, they held an annual mufti day. Altogether, they raised a total of $9500, a record collection for their Mission Month appeal.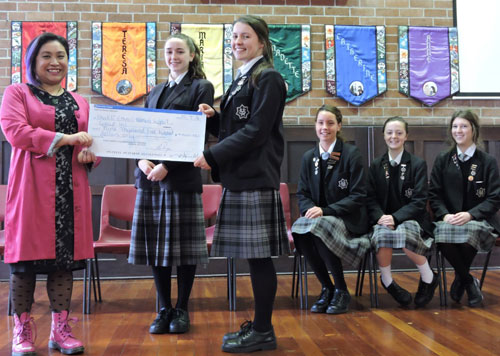 On hand to receive the huge novelty cheque was Pollyanne Pena, convenor for Shakti Wellington and a past pupil of both St Mary's College Wellington and nearby Sacred Heart School Thorndon. She wanted to come to the college to thank the girls for the money raised and was overwhelmed when presented with the outsized cheque.
The money from St Mary's has gone some way towards securing a much-needed safe house which opened in Wellington in September for migrant and refugee women.
Over the years, Shakti has grown from the confines of one tiny room to a national umbrella organisation with seven member centres in Auckland, central North Island, Wellington and the South Island. Helen Clark, former New Zealand Prime Minister and current head of the United Nations Development Programme, is Shakti's patron.