With 'Not a Penny to our Name'
Dunedin 1897
When Michael Verdon took over as Dunedin's second Catholic bishop in 1896, he quickly saw the need for schools, health and social services in the struggling working-class towns and suburbs of New Zealand's southern province.
Dominican nuns had served in the diocese for quarter of a century, but their enclosed rule confined their ministry to the classroom. With an older sibling a Sister of Mercy in England, Bishop Verdon knew at firsthand about Catherine McAuley's 'walking sisters'.
His request to the Mercy community at Singleton, NSW, drew a prompt and generous response. A group of seven sisters left for Port Chalmers from Sydney in January 1897, led by 33-year-old Mother Kostka Kirby. Her companions on the voyage included five sisters and a young novice.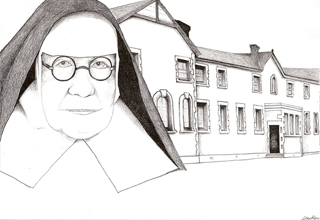 Born Kate Kirby in Limerick in 1863, she had joined the Mercy convent in Ennis, County Clare, from which the Singleton community was founded in 1875. She travelled to Australia as a postulant in 1882 and was professed in 1884. Mother Kostka had already served as superior of a branch convent when she volunteered to join the group she was chosen to lead to New Zealand.
Within days of settling in South Dunedin, the sisters were teaching at St Patrick's School, begun by the Dominicans 17 years before, as well as visiting the poor and sick of the parish.
In the first two weeks, three new postulants were welcomed, the first of 26 to join before a new convent, designed by leading architect Francis Petre, was built in 1901 at a cost of £4000. "We haven't a penny to our name," Mother Kostka would tell her community, "so if I go to jail, you'll have to go with me."
By April 1897, Mother Kostka had begun St Philomena's High School with an initial roll of four pupils, serving as principal and music teacher. She also oversaw the opening of the St Vincent de Paul Orphanage. For the next 30 years, this would be home to more than 1600 girls and young women, many of them cared for and taught by the sisters until they turned 21.
In fact, Mother Kostka and her companions were not the first Sisters of Mercy to reach Otago. In 1890, Bishop Verdon's predecessor had succeeded in finding five Irish sisters to teach in Gore, at the request of the town's parish priest. But the venture was soon in strife.
Beset by personality and health problems, the superior forced two of the fledgling community to leave within a year for fresh pastures in Australia. Her resignation in 1894 left those remaining to fend for themselves until 1897, when they were able to amalgamate with the new foundation in South Dunedin.
From then on, the Gore community never looked back. To the convent school, opened in 1907, a small secondary department was added in 1935. In 1969, Sisters of Mercy joined Rosminian priests and brothers to open St Peter's College for girls and boys.
Between 1898 and 1950, the Sisters of Mercy established convents and primary schools in more than 10 parishes in the Dunedin diocese, including rural towns in Central Otago and Southland as well as suburbs of Dunedin city.
Dunedin's Mercy Hospital, the Congregation's largest ministry, began as a 24-bed facility in 1936, after two sisters had been sent to train as nurses at Brisbane's Mater Hospital. The purchase of Marinoto in 1958 saw an expansion of services, with a new 66-bed hospital opened in 1969. The latest extensions, including a new day-surgery unit, were commissioned in 2008.
Remembered for her administrative skill and quiet, efficient style, Mother Kostka spent 55 years based at the Convent of Mercy in South Dunedin, more than 15 of them as superior. She died in 1952.
Newly professed in 1950, Sr Barbara Ferguson still remembers Mother Kostka in her final years . "She was kindly and courageous, with an interest in education and a deep concern for the poor."
Visitation was a major part of the early sisters' work. "They used to visit the old men in Tolboys, which in those days was like the old workhouses in Ireland . They were called the 'walking sisters' and they were seen on South Dunedin's streets every day."