A Voyage Made 'Only for God'
Auckland 1850
'I do not know how anyone could ever undertake such a voyage, except for God.' That's how Mother Cecilia Maher described the journey on which she led the first Sisters of Mercy to New Zealand in 1850.
She was not the first of her family drawn to Mercy. As a 17-year-old, her younger cousin Frances Warde had met Catherine McAuley in 1827 and was soon helping to care for Dublin's poor and sick.
The first sister professed at Baggot Street, Frances Warde was chosen by the foundress to establish St Leo's Convent in Carlow in 1837. Six years later, she would lead the first Sisters of Mercy to the United States.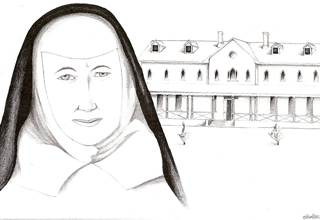 Cecilia Maher was 40 before she joined the Sisters of Mercy in Carlow. Born Ellen Maher in 1799, she became mentor to five step-sisters when her father remarried after her own mother's death.
She entered the convent in 1838, took her vows in 1840 and two years later succeeded her cousin as novice mistress. In 1843 she was elected superior at St Leo's, when Frances Warde resigned from that role.
It was to St Leo's that Bishop Jean Baptiste Pompallier came in 1849, with a request from Māori women of Tamaki makaurau Auckland for 'wahine tapu' to teach and care for their people. He had already been to Belgium and France, seeking priests and sisters for the mission he had established in New Zealand 11 years earlier.
The small group which Mother Cecilia led included two sisters, two novices and a postulant. Another two sisters joined them in Dublin, travelling to London and on to Antwerp where they were met by the bishop and a group of clergy on board the Océanie for the eight-month voyage around the world.
During the trip, Bishop Pompallier taught the sisters Māori and preached to them in French. Mother Cecilia saw that the routines of convent life were maintained as closely as life at sea allowed. After two weeks in Sydney, the group landed in Auckland on 9 April 1850, the first Catholic sisters to reach these shores.
Within a day of their arrival, Mother Cecilia and her band began teaching 60 children in a small school next to St Patrick's Church in Wyndham St.
They occupied an adjacent four-room house, until moving a few weeks later into the vacated presbytery. By mid-1851, a newly built St Patrick's Convent in Hobson St housed sisters and orphans, with classrooms for small children and older girls.
To their tasks of teaching youngsters and caring for orphans, the sisters soon added the work of visiting the sick in their homes and at the Colonial Hospital, as well as prisoners in the city's jail. One of these was a soldier sentenced for murder; Mother Cecilia spent time with him the day before he was hanged.
From Carlow came the idea of a two-tiered education system, with fees from the wealthy providing funds for teaching the poor. Soon after their arrival, the sisters opened their Select School, drawing pupils of all denominations from Auckland's leading families.
Cecilia Maher's dream of a motherhouse took shape on 18 acres of land in Ponsonby, made available by Bishop Pompallier. Built to house 60 sisters, the convent in New St was completed in 1863. Still standing today, the kauri chapel was blessed by the bishop in 1866.
Inspired by their Irish experience, the sisters' mission was also shaped by forces at work in New Zealand. These included the growing tension between Māori and Pakeha, and the creation of military outposts like Onehunga and Howick, where Fencible soldiers and their families were soon asking for churches and schools. The sisters' first branch house in Parnell was opened in 1862.
After the first Mater Hospital was opened in Dublin in 1861, Mother Cecilia hoped her sisters might run a similar facility, but it would be 22 years after her death before that dream was achieved. In 1900, Auckland's Sisters of Mercy bought the large house in Mountain Rd which became the Mater (later Mercy) Hospital.
Mother Cecilia never returned to the Emerald Isle she left 28 years before, but the seeds planted before her death in 1878 have continued to grow and blossom.