Mercy in Oceania and Beyond
Tonga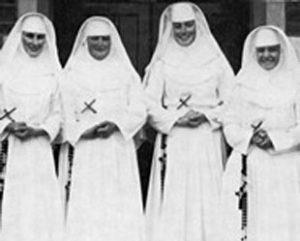 In response to a plea from the then Bishop of Tonga, New Zealander, Bishop John Rodgers SM in 1964, the Christchurch congregation established a house in Lapaha.
The founding four Sisters taught school, worked with the villagers in raising crops and pigs and ministering to the people in a host of ways.

Since then Sisters in communities at Kolonga and Lapaha have engaged in secondary school teaching, parish work, support for women and children, prison chaplaincy and justice and development programmes.
---
Samoa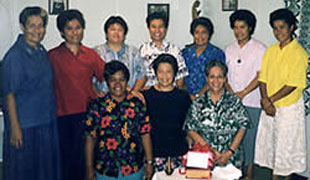 In 1972, at the request of Samoa's Cardinal Pio, the Auckland congregation established a house in Leulumoega village on the main island of Upolu. Initially they were asked to staff the new secondary school, Paul VI College, built following a visit by the Pope, and establish a village health clinic. Sisters later taught in the local primary school, St Joan of Arc, and opened an early childhood centre. There was also a novitiate from 1982 – 1990.
In 2003, a community was founded in Fusi, on the island of Savaii, to staff St Theresa's primary school and early childhood centre.
Over the years Sisters from throughout Aotearoa New Zealand have served alongside indigenous Sisters in mission to Tonga and Samoa and elsewhere in the Pacific.
---
Global Mission
Sisters have served or are still serving on mission to poor indigenous communities in Peru, Chile, South Africa, Jamaica and Australia.
Mercy Art and Creativity Centre Melbourne, was a joint venture of the Auckland and Melbourne Congregations for eight years. From 2005 – 2009 it was succeeded by Mercy Sculpture Centre, also in Melbourne.