'Ten valiant women'
Hokitika to Christchurch 1878
Few Irish prospectors made their fortunes on the West Coast, but Marist Father Aime Martin must have felt he'd struck gold when he secured ten Sisters of Mercy for his parish of Hokitika in 1878.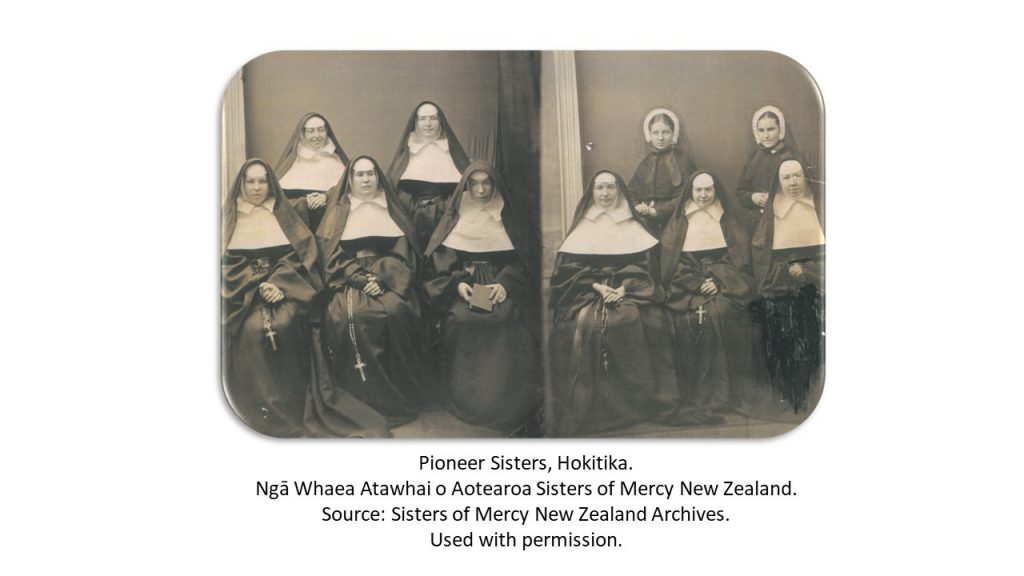 The group of eight sisters and two postulants set out from St Xavier's Convent, Ennis, County Clare, on 23 July that year, led by 34-year-old Mother M. Clare Molony. After a trip that took them via Plymouth to Sydney, Melbourne, Wellington, Nelson, Westport, and Greymouth their boat anchored beyond Hokitika's bar, waiting twelve hours to moor at full tide. On the feast of St Teresa of Ávila, 15 October 1878, these founding sisters, or Pioneer Sisters as they are known, arrived in Hokitika.
The sisters occupied a rented house until their convent was ready, visiting the town's hospital and jail and calling on sick people in their homes. They were soon entrusted with a school of 105 girls, previously staffed by lay teachers, and offered religious education in the church after Mass. On 15 January 1879 their new convent, St Columbkille's was opened. In one room they began the district's first high school, preparing girls for public service, matriculation and teaching.
Like Hokitika, the township of Greymouth mushroomed after the discovery of gold. Its first Catholic church was built in 1865; the school which opened the following year was staffed by lay teachers. A request to Mother M. Clare invited the sisters to open a branch house there and on 3 November 1882 Sister M. Mechtildes Boland and three Pioneer Sisters, accompanied by Mother M. Clare, established All Saints' Convent.
Travel from Hokitika involved a three-stage journey: a horse-drawn tram to Kumara, an 'aerial tramway' suspended by wires across the Taramakau River, and a coach over the last 30kms. Within the year, Greymouth became an independent foundation.
At Bishop Grimes's invitation, three sisters from the two West Coast communities led by Sister M. Aloysius McGrath, a Pioneer Sister, arrived at Lyttelton on 28 January 1890 to establish an independent foundation where they took charge of the primary school with 90 pupils and opened a high school for girls. As well as visiting the sick, they also made regular calls on men and women in the town's jail.
The first Sisters of Mercy to reach Christchurch came from Greymouth on 25 July 1894. Mother M. Mechtildes Boland, a Pioneer Sister who had come to Hokitika as Mother Clare's assistant before founding the Greymouth community, accepted an invitation to staff a school in St Mary's Parish, Christchurch North. Bad weather forced the group of six to sail to Lyttelton rather than attempt the journey by road.
The sisters began classes in their convent, visiting the sick in their homes, and from 15 August two sisters regularly travelled by horse and gig to teach at the church-school in Papanui. The community continued as a branch house of Greymouth until May 1899, when it became an independent foundation.
Over time, each of the independent foundations had their own branch houses. A request from Rome for the independent houses to amalgamate prompted delegates from the four foundations of Hokitika, Greymouth, Lyttelton and Christchurch to meet in 1917. On 16 January 1918 the four foundations became one congregation under an elected superior, Mother M. Claver Ryan, a Pioneer Sister. The first mother house and novitiate were established at Villa Maria Convent on 2 February 1918.
Mother M. Clare Molony died in Hokitika on 30 October 1931. She is remembered as a woman of deep faith and a born leader. For the Māori people, she had a particular love and they sought her counsel. "The rata flower has fallen at last, and we grieve for her," was the message of sympathy from Māori of Arahura. She took Westland and its people to her heart, never missing a chance to pour her own love of scholarship and learning into the hearts of the young. "Her knowledge of the classics, her love of history, and her absolute joy in unfolding the faith made her a rare teacher," wrote a former student.
We give thanks for the leadership of Mother M. Clare Molony and we hold in gratitiude the Pioneer Sisters, "the first ten valiant women" of mercy. All were known for their own particular gifts and inspired the works of mercy in their time.