Imaging Mercy Today October 2013
October 5, 2013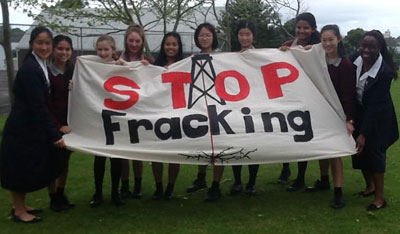 Carmel College, Auckland student group SAVE (Students against violation of the environment)
support Global Frackdown Day.
Nga mihi atawhai – greetings to all in Mercy! History will be made this month, as Sisters of Mercy around the world join their voices with those of many others on October 19, observed as Global Frackdown Day. Fracking, also known as 'hydraulic fracturing', is the process of injecting fluid which contains sand and chemicals at high pressure into rock, in order to fracture it.
Click below to read more in Imaging Mercy Today and download an information sheet and prayer resource