Tu'utu'u ile loloto – launch out into the deep
January 24, 2012
'Tu'utu'u ile loloto – launch out into the deep'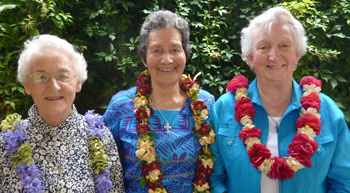 The spirit of the founding sisters and those who have followed them in Mercy mission to Samoa over 40 years was celebrated on 21 January at St Mary's Convent, Auckland.
In 1972, at the request of Samoa's Bishop Pio, the Auckland Sisters of Mercy established a house in Leulumoega village on the main island of Upolu.
Initially they were asked to staff the new secondary school, Paul VI College, built following a visit by the Pope, and establish a village health clinic.
Sisters later taught in the local primary school, St Joan of Arc, and established an early childhood centre. There was also a novitiate from 1982 – 1990.
In 2003, a further community was founded in Fusi, on the island of Savaii, to staff St Theresa's primary school and early childhood centre.
Over the years Samoan sisters have been joined by many Mercy sisters and companions from throughout Aotearoa New Zealand in serving the people of Samoa.
Pictured above are founding sisters Nora O'Neill, Edwina Ulberg and Judith Leydon.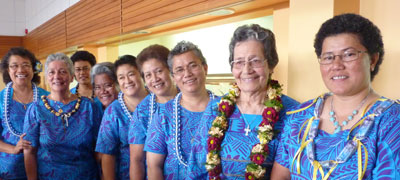 Shown (left to right) are Sisters Salome Ioane, Priscilla Kohlhase, Paula Anamani, Marieta Ifopo, Tulili Ah Ping, Akenese Nun Toon, Malia Fetuli, Edwina Ulberg and Fatima Lemisio.
To read more about the celebrations click below