Sister of Mercy educator, author and archivist honoured in Queen's Birthday Awards!
June 25, 2010
Sister Mary de Porres Flannigan was honoured nationally for services to education when awarded with the Queen's Service Medal this month. The Queen's Service Medal (QSM) was instituted by New Zealand in 1975, to recognize service to the community and also elected or appointed public office. Up to 60 awards of the QSM can be made each year and recipients are entitled to use the post-nominal letters 'QSM' after their names.
Sisters de Porres shares:
"To write a profile of my involvement in education, I had to ask myself, where does one begin and end?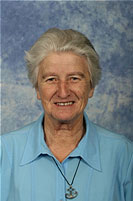 After completing my teacher training at Christchurch Teachers' College and Hornby school, I applied for a two – teacher state school at Ahaura where I spent one year. Little did I dream of the Mercy connection as it was there that Bernard Dickson and Camillus Heffron had opened St Mary's Convent of the Sacred Heart, a boarding school for girls, 1875 – 1876! On entering St Mary's Novitiate in Guilford Tce, Wellington, my long and happy association with Catholic Education began with primary school appointments to Newtown, Upper Hutt and Westport and assistant secondary appointments to St Mary's and St Catherine's Colleges.
Then followed 21 years as Principal of St Catherine's College, Wellington, St Peter's College Palmerston North and St Mary's College, Wellington. I have always regarded teaching as a great privilege as well as a big responsibility, helping form the minds of young people and assisting them to develop their talents and achieve their dreams in life.
On retirement from school I became the Archdiocesan archivist and librarian and also continued with some involvement with St Mary's College, coaching students for the O'Shea Shield Public Speaking Competition.
Responding to requests, in my 'spare time' I have written three books.
Mercy Comes to Wellington 2000
No Half Measures 2004
Like a Mustard Seed 2009 [these are listed in mercy resources]
I give thanks for all this and much more. I am truly grateful for the support and opportunities given me by my family and congregation and for the countless number of staff members, students and wider community who have been and still are so much part of my life."
Sister de Porres Investiture will take place, in September, at Government House, Wellington.