School song inspiration for stained glass window
April 26, 2014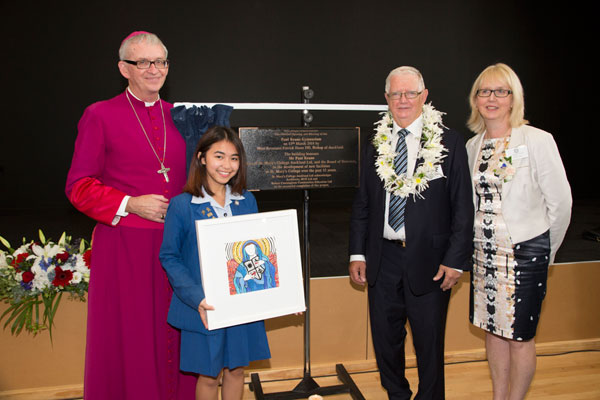 Christienne Dadula was among Year 10 art students who took part in a competition last year to make a design to be incorporated in the large cross which dominates the new gymnasium at St Mary's College, Mercy's oldest college in Aotearoa. The challenge was to incorporate the environment around the school. Christienne is pictured with Bishop Pat Dunn, Paul Keane, St Mary's Board Chair and Principal Mrs Bernadette Stockman.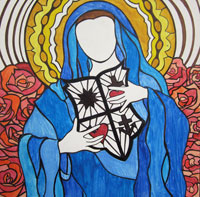 "My main inspiration came from our school song," says Christienne, who continues to include art as one of her options this year. "The song has the Virgin Mary as its main focus, but also highlights the colours that symbolize our school. What really stood out for me as I was completing this project were the lines, 'Our colour's blue, that's for Our Lady', and 'a touch of red speaks for our caring'. The roses in my piece were inspired by the roses I saw in the sisters' small cemetery next to our field, and the gold crown was inspired by the stained glass figures of the saints I saw at St Patrick's Cathedral."
The illuminated cross, with the stained glass design at its centre, is clearly visible on the city landscape, but Christienne admits she was more conscious of how her design would be seen within the gymnasium. "To be honest, I thought more about what the stained glass would look like from within the school, than how it might appear as part of the Auckland landscape.
"As the building gradually took shape, I became more and more excited. When I found out that my art work had been chosen for the new building, I was overwhelmed and felt very surprised.
"I thought my art teacher was joking when she told me I had won the competition. When the building was completed and my piece had been transformed into stained glass, I send my mum and dad a photo of it straight away.
"Seeing my work up on the cross is truly humbling, and I'm very glad that I've already left a piece of me and my passion at St Mary's."
Opened and blessed in March 2014 by Bishop Pat Dunn, the gym complex contains an international basketball court, a dance studio, offices and five new classrooms which open onto a mezzanine gallery for viewing sports fixtures.
The building has been named after Mr Paul Keane, chairman of the board of directors of St Mary's College for the past 12 years.
The $7 million complex has been welcomed by St Mary's College principal, Mrs Bernadette Stockman, a past pupil of the school who took up her position in Term 4 last year. The building has been designed to meet student needs well into the future, she says.
"The new gymnasium has been designed to ensure that the long-held traditions of excellence and mercy that have been part of St Mary's since 1850 are maintained for current and future generations of students."