Remembering a woman of Mercy
November 21, 2017
Dame Sister Pauline Engel rsm DBE CBE
10 September 1930 – 15 November 2017
Kia okioki ia i runga i te rangimarie May she rest in peace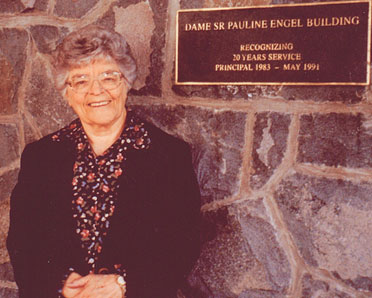 I came to know Dame Sister Pauline Engel closely in the years she chaired the advisory board of Auckland's diocesan weekly Zealandia which I edited, and then in 1981 when she served as my editorial assistant, a post she held until her appointment in 1983 as principal of Carmel College. What I remember best are her energy, her incisive mind and her deep commitment to justice.
Despite her diminutive stature and a physical frame that would increasingly fail with time, she remained active and informed on the burning issues of church and society. Before she entered religious life, she had worked for the Lands and Survey Department and later wrote what has become the definitive history on the abolition of capital punishment in this country. More recently, at age 85 she made a written submission to a Parliamentary Health Committee, opposing the introduction of assisted suicide. On both topics, Pauline's concern was focused on the rights of the individual and the integrity and sanctity of human life. She was strongly opposed to the Springbok Tour of New Zealand in 1981 and was among religious who actively opposed rugby matches in Auckland at that time.
Pauline had lifelong health issues to deal with. She wrote to me in the early 1980s saying, "it looks as if my childhood problems have caught up with me in middle-age. The orthopaedic people here are honest enough to opine that I'm going to have fractures with more than usual frequency. The other night I bethought me of an apt paraphrase for my life – 'I've seen the future, and it hurts'." Despite brittle bones, difficulties in swallowing and failing sight from progressive macular degeneration, she continued to take a lively interest in literature and politics, education and church affairs. She kept in touch through audiobooks, and with help from devoted friends, continued to read and correspond.
Though a faithful and dedicated Sister of Mercy, Pauline was very much her own person. She believed that systems should serve the people for whom they were created, and not the reverse. She lived to some extent outside the square, and must have made things difficult for religious superiors and for those who lived with her in community. She was never slow in making her views known and was skilled in putting deeply held opinions into words. "I'm opinionated, and volubly so," she told me in a letter once. She was also fiercely independent. I well remember taking her out for coffee to a North Shore mall. We left the walking frame in the car, and as we went arm in arm to do some shopping for her evening meal, she tripped and fell to the floor. In no time she was back on her feet, making light of the event and hinting that if she was not in the least embarrassed, I had no need to be, either.
Pauline was passionate about the education of girls and young women, with a commitment that earned public recognition in honours conferred by the State. She rejoiced to see former pupils progressing in their careers, especially when they made a difference to other people's lives. She believed in Mercy and its care for the poor and for the environment. After retiring as principal from Carmel College, she served for some years as Bishop Dunn's Vicar for Education, with a particular interest in seeing that Catholic schools, integrated into the State system, remained committed to their special character.
The decision to move from community living to a more supportive level of care was not an easy one for Pauline to accept. But her last months at the Lady Allum rest home in Milford were relatively comfortable. In the end, death came quite unexpectedly, with a turn that saw her admitted to North Shore Hospital, where she slipped away peacefully on November 15, surrounded by family and Sisters. She will be widely mourned by her Congregation and by the staff and past students of the schools where she taught, especially McAuley High School in Otahuhu and Carmel College in Milford.
Kia okioki ia i runga i te rangimarie; may she be at peace.
- Dennis Horton