New downloadable MIA resources available
June 19, 2014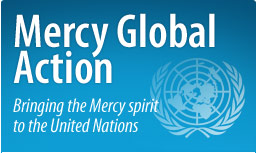 The main goal of MIA's global action is to develop a programme based on the grassroots stories of Mercy work throughout the world, which is firmly rooted in theological reflection for social action and which will develop policy and advocacy positions to influence change though the national and international decision making bodies, primarily the EU and the United Nations.

Mercy International Association at the United Nations publications are now available in pdf format
Click here and scroll to the Featured Resources section of Mercy E-news Edition 569 -18 June 2014 to find links to the following publications.
Mercy Global Concern – Leaven for Good in a Hurting World
Meeting the Global Citizen in You (2010)
Water is Free Beverage (2009)
Where in the World are my Sisters?
Mercy the Language of the Heart
The Many Faces of Mercy
A Rights-Based Approach to Resource Extraction in the Pursuit of Sustainable Development Advocacy Brief (2014)
Click here to subscribe to Mercy E-news, a weekly update from MIA.