New CEO welcomed
February 27, 2009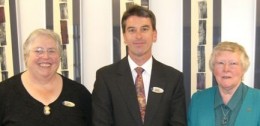 Mr Richard Whitney, an experienced health manager, is the new Chief Executive Officer at Mercy Hospital, Dunedin. Richard has a strong commitment to teamwork and collaboration through values that reflect our Mercy Mission. Richard is pictured above with Janice McDrury, Mission Co-ordinator and Sister M Lucia Hartstonge, Board of Directors.
Richard was welcomed and commissioned on 16 February by Alby Ellison (Otakou Runanga) and Mercy Hospital staff. Gifts given to Richard included pounamu, a 'touch-stone' that would enable connection with our earth and all its people, a Peace Lily, indicating our commitment to mutual nurturing and growth, and the Mercy symbol Te Ngakau Atawhai Heart of Mercy signifying our commitment to Mercy Values and Mission.
Richard was born and raised in Oamaru, enjoying all of the outdoor opportunities offered in and around the Waitaki Valley and surrounding mountains. Active involvement in St John at an early age, commencing with Youth Leadership and progressing through to the Ambulance service saw the commencement of Richard's life long commitment to health services. Richard was one of the first entrants into the then newly established National Ambulance Training School in Auckland, undertaking basic paramedic training.
Richard pursued tertiary study, graduating from the Otago University with a BA (Hons) majoring in Geography and Economics. Postgraduate qualifications followed through Otago, Massey and Auckland universities.
Post graduation, Richard was one of sixteen nationally selected graduates to enter a structured Health Management Training Programme jointly sponsored through the then Hospital Boards Association of New Zealand and Department of Health. This training programme provided two years of focussed academic study and health service orientation across primary, secondary, public and private sectors, inclusive of personal care and public health.
Professional management posts held have included those with the now defunct Lake Alice Psychiatric Hospital, Department of Health, District Health Boards and Independent Practitioner Associations. Areas of responsibility have included Information Technology, Rural Hospitals, Public Health Units, Specialist and Surgical Services, and most recently that of primary care through organised general practice.
Richard's life long passion for the effective and efficient delivery of health services, with the application of the human touch and the absolute focus of patient-centred services, ensures that the values and aspirations of Mercy Hospital will be well served by his appointment.
Richard is married to Caroline, a Diversional Therapist with Presbyterian Support. Caroline and Richard have three sons, Garon (a third year student at Otago University), Morgan (final year student at Bayfield High School) and Travis (second year student at Bayfield High School).
Outside interests include a passion for the restoration of old homes and that of classic vehicles, fishing, tramping, and (when time allows) motorcycle riding. Richard has also been active in a number of service clubs and supporting governance and the sub-committee activities with St John.