Mercy Sister named Gardener of the Year
November 26, 2012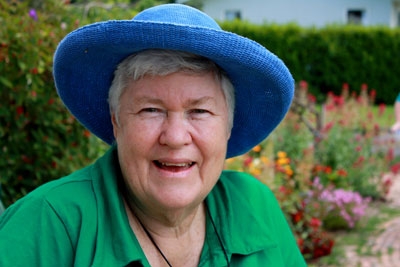 Congratulations to Rosemary Revell rsm who has won NZ Gardener magazine's 2012 Gardener of the Year competition. The competition aims to recognise and reward unsung horticultural heroes, who generously share their gardening skills with their local communities.
Rosemary was nominated for the competition by volunteers at Papatuanuku ki Taurangi Earth Promise Centre in Ellerslie, Auckland.
Initially judged 'Best Vegetable Gardener', one of 10 categories in the competition, Rosemary was then eligible for the overall prize of 2012 Gardener of the Year which was decided by public vote.
Papatuanuku ki Taurangi, an initiative of Nga Whaea Atawhai o Aotearoa Sisters of Mercy New Zealand, seeks to offer a living model that bears witness to a healthy and sustainable ecological relationship with Earth and universe. It aims to create community around a garden with a primary focus of growing food for families.
One of three Mercy sisters working alongside volunteers at the centre, Rosemary says "the focus in 2012 has been donating garden produce to needy families. As well, the garden is host to workshops to teach young mothers how to grow healthy food. As far as I am concerned any prizes would go to the garden and to help others start their own gardens at home."
In their nomination letter for the competition garden volunteers noted "To a visitor, Rosemary is hard to miss in her ever-present fluoro pink windbreaker. Spend any time with her, and you'll find she is a woman of action. Sleeves pushed up, she mucks in with gusto on garden work, making compost heaps, cutting up prunings, and weeding the vege beds."
To learn more go to
https://vimeo.com/59331664
or
http://tvnz.co.nz/close-up/gardener-year-video-5249690