Mercy International Reflection Process facilitation training
March 2, 2016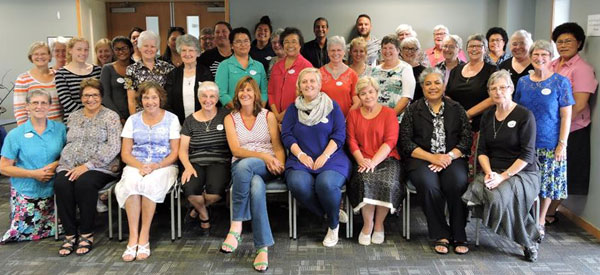 With the summer holidays now a distant memory and with autumn knocking on the door, the last Friday evening and Saturday of February saw 37 participants gathered at Te Wāhanga Atawhai Mercy Conference Centre in Thorndon to begin their training as Facilitators of the Mercy International Reflection Process. The group comprised a number of sisters, two members of Te Kahui Pou the Congregation's Maori Advisory Group along with a couple of their whanau, members of He Waka Tiaki the National Mission Team, the principal, some teachers and a few students from St Catherine's College and two members of the young lay Mercy Challenge 2000 community from Kilbirnie. Members of the Leadership Team also joined with those who came for the training.

In preparation for the weekend participants watched Elizabeth Davis' invitation to "Become a Doorkeeper of Mercy during the Year of Mercy" and came with a story concerning "the cry of the Earth and the cry of the Poor". Beginning with these stories they were lead through the four stages of the reflection process by Kathleen Rushton, the Key Facilitator of MIRP in Aotearoa. This gave participants a wee taste of the process they would facilitate. The Coordinators, Teresa Anderson and Natalie Murphy, lead participants through the resources available on the MIRP microsite. They also alerted them to resources from Caritas Aotearoa and books by local theologians and writers that discuss concerns of the Earth and the Poor in New Zealand and the Pacific.
Each day's sessions began with Pope Francis' Prayer for the Earth. Participants were provided with a folder of handouts to guide them in their role as facilitators. Groups are now being formed across Aotearoa in a variety of settings, where possible, with a mix of sisters and companions in Mercy. One of the Samoan sisters who participated in the training will be returning to Samoa to bring the Mercy International Reflection Process to life there.
To conclude the training, Katrina Fabish Congregation Leader of Nga Whaea Atawhai o Aotearoa Sisters of Mercy New Zealand thanked participants for taking up their role and commissioned them with a blessing. Each was given a candle decorated with the MIRP logo and the Year of Mercy image to use with their MIRP groups.
Click here to find out more about the Mercy International Reflection Process
MIRP logo © Mercy International Association 2015