Mercy Hospice Auckland Tea Party fundraiser
May 17, 2011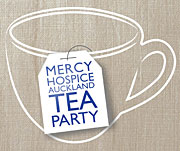 The Tea Party concept links Sisters of Mercy foundress Catherine McAuley's familiar 'cup of tea' with the opportunity to share in a moment of quiet reflection, comfort and celebration, and offer a gold coin donation to the hospice. Hosts receive a free Tea Party Pack which includes Dilmah tea bags, invitations, posters and a delicious cup cake recipe created by Jo Seager.
Tea parties can be held any time of the year and are just one of many ways of contributing to the work of Mercy Hospice Auckland. To find out more click here
16 – 22 May is New Zealand Hospice Awareness Week, and a significant opportunity to increase public awareness about hospice care as well as raising vital funds. Did you know that Mercy Hospice Auckland needs to raise more than $6000 a day over and above District Health Board funding to continue to provide services to the community free of charge?
Read more about Mercy Hospice Auckland including the latest edition of their newsletter Lifetimes on their website