Mercy Forum 2012
May 15, 2012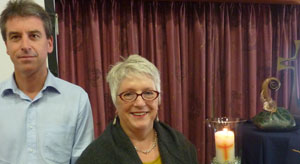 The growth of Mercy ministries to 2025 was the focus of a forum held in Auckland on May 11. Around 60 directors and managers of ministries owned by Nga Whaea Atawhai o Aotearoa Sisters of Mercy New Zealand attended the one-day event.
Congregation Leader Anne Campbell set the scene with her reflection on 'Mercy, the business of our lives.' Keynote presenters included public health executive Dr Lester Levy, on skilled governance, and Dr Philip Hill, currently McAuley Professor of International Health in Dunedin, who spoke on his research in tackling TB and pneumonia in The Gambia and on mentoring young health graduates in developing nations today.
Tiaki Manatu board chairman Reuben O'Neill and mission leader Gabrielle Huria outlined the board's strategic plans for the future, and Mercy Hospital Dunedin CEO Richard Whitney and Mercy secondary principal Kath Deady (pictured above) drew from their work insights for guiding Mercy ministries through the next decade and beyond.
Hosted by Tiaki Manatu, the forum gave participants a broad view of the healthcare, education and community development ministries currently sustained by Mercy in Aotearoa and the Pacific.