Hui Taumata 2015
May 5, 2015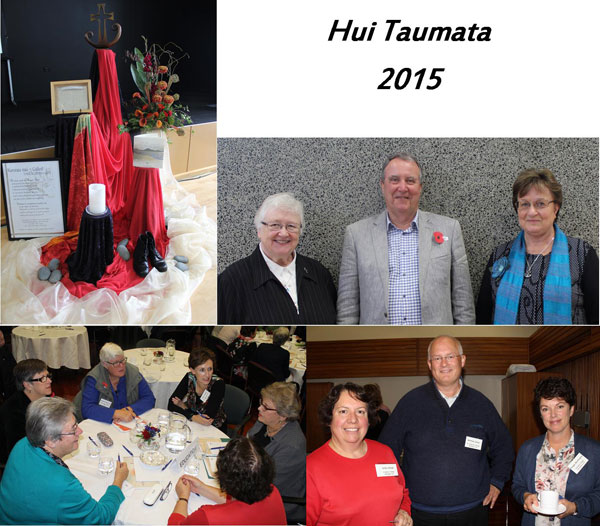 The Tiaki Manatu Mercy Ministries Board Conference held in April this year, proved to be a highlight for many!
Mercy Sister Elizabeth Davis, Congregational Leader of Newfoundland, kept the audience captivated sharing her life experience as well as daring conference participants to 'imagine diverse and energising answers to the poignant question, "How can we, as Mercy leaders, be the space for the holy to rise in our midst?"
Sister Katrina Fabish shared the Congregation's Vision for whakawhanaungatanga, widening Mercy circles and standing with fragile communities, arising from Te Whakaminegna Chapter. Sister Tui Cadigan challenged conference participants on their commitment to Te Tiriti o Waitangi encouraging all to take time to reflect on how the Treaty principles are embedded in their organisations.
Participants were treated to a new video of many of the Mercy ministries, providing valuable insight into the Mercy organisation.
Tony Harkins, Chair of Tiaki Manatu Ministries Trust Board presented the Board's draft strategic plan, with conference participants then breaking into groups to workshop the strategic priorities and provide feedback to the Trust Board. Sheets filled with ideas and feedback were collected and presented to the Ministries Trust Board, who will workshop this further and finalise the Strategic Plan.
Gabrielle Huria and Astrid Lambert led the Mission in decision-making workshop which had conference participants working in groups, each grappling with case studies intended to encourage participants to work through the process and not jump steps to quickly resolve the problem as is so often the easiest way! M Theory resource booklets were given to all conference participants to help board members engage in the discernment process at their own board meetings and in their own set of personal circumstances.
The day ended on a high note with long serving directors (10 years and more), each receiving a plaque with their very own set of Mercy boots, in appreciation for their tremendous commitment to Mercy.
Saturday was reserved for directors only who shared their experiences and challenges amongst those directors all serving in similar ministries. Valuable exchanges of thought, insight and information was shared and very much appreciated by many of the directors.
The Tiaki Manatu Ministries Trust Board is committed to ensuring the health and safety of all its members and their staff and finished off the morning with a presentation by Gillian Service of Minter Ellison Rudd Watts. Gillian provided a comprehensive overview of the pending changes to the Health & Safety legislation, advising directors of their responsibility under the new regime.
The conference was jam packed with distinguished speakers, new learnings and shared experiences with many participants openly sharing how much they valued the opportunity to learn and meet fellow directors.
For further information:
Astrid Lambert
Group Administrator
E: alambert@somauck.org.nz
T: 09 360 8009