First Hospice Shop Celebrates Fifth Birthday
December 5, 2010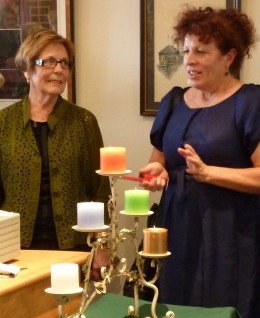 "Turning second hand goods into first class care"
Mercy Hospice Auckland's first hospice shop opened on Ponsonby Road on 5 December 2005 and became a community drawcard from the start. Another six shops across Auckland have followed. Click here to find the location of Mercy Hospice shops.
The decision to open hospice shops came as a result of the need to diversify fundraising and seek new and sustainable income streams at a time when government funding was falling well behind the demand for service. Shop revenue provides nearly 50% of the hospice annual fundraising target.
However it is not just about money – shop managers and volunteers represent Mercy Hospice Auckland and pride themselves on excellent customer service and forging strong relationships with their communities and shoppers. Stock is donated and volunteers deal daily with peoples' stories, often about a person who has died and whose goods are being donated.
Our photo shows hospice CEO Jan Nichols and volunteer Jan McCallum at celebrations to mark five years of hospice shops.
Volunteers are a vital part of the life and philosophy at Mercy Hospice Auckland.
Click here to find out more about becoming a hospice volunteer.