Double celebration for centenarian
May 17, 2013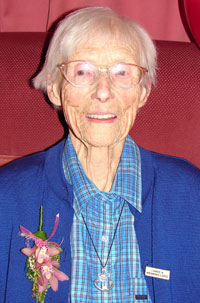 Sisters and friends gathered at Mercy House in Upper Riccarton on 10 May to celebrate the 100th birthday of Sister Mary Clement. Mary Clement was born in Limerick, Ireland and with three companions travelled by boat to Villa Maria, in Christchurch New Zealand, in 1930. She made her vows on 11 May 1933 and so this year also marks her 80 years as a professed Sister of Mercy. M Clement is known for her faithfulness to prayer and always showing kindness with extraordinary anticipation of others' needs.
Sister M Clement's life of service included 42 years as teacher and principal throughout the Christchurch diocese maintaining high standards and helping younger teachers. When teaching at Villa Maria she had additional tasks supporting the boarders. She was in Cobden when a flood led to her rescue through a school window into a boat. Even while Principal at St Joseph's School in Papanui, she still found time to walk the streets visiting the elderly who loved her company. She lived in Geraldine and Lyttelton before she returned to the Villa Maria community in 1977, where she has been a neighbourhood visitor, and a friend and supporter to sisters and to Villa Maria College in all these years
.
Sister M Clement is honoured as a loved member of the Hurley family, and a faith-filled and faithful Sister of Mercy.