Crimea's nurse to the rescue
June 9, 2011
As Sisters of Mercy mark 150 years of service in Wellington on 14 June 2011, we remember the founding sisters, including one who nursed alongside Florence Nightingale in the Crimean War before coming to New Zealand.
Those first sisters could be forgiven for feeling less than welcome. It took a wintry week on a steamer from Auckland for them to make the trip to Wellington, in response to urgent appeals for help from Bishop Philippe Viard.
But when their ship arrived early on 14 June 1861, there was no one to meet them. Without their knowing, the bishop had withdrawn his request till finances improved; in fact their fares had already been met in Auckland by Bishop Pompallier, who was happy to wait for the £38 to be repaid.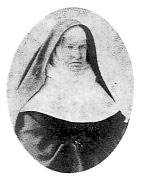 Leading the trio was 51-year-old Mother Bernard Dickson, an English woman who entered the Bermondsey foundation in London in 1847 and had nursed in the Crimea for several months before being invalided home. She was invited in 1857 to join a group of five Sisters of Mercy from Carlow travelling to Auckland.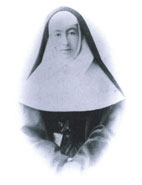 In the same group was a young novice, Augustine Maxwell, who made her profession in Auckland in 1861, just three months before being chosen to go to Wellington with Mother Bernard and a young French postulant, Marie Deloncle.
Their arrival was timely. When he first reached Wellington more than 10 years earlier, Bishop Viard had brought with him four young women who took annual vows and became known as Sisters of Mary. A small convent, opened on Golder's Hill in 1850, served as a school by day and a sisters' residence at night.
Within two years, a larger St Mary's Girls School for boarding and day pupils and the Providence of St Joseph, offering accommodation for around 20 Maori girls, were both opened with support from Governor George Grey and his wife. But over the next few years, Viard's mission faced a series of major set-backs, including loss of official revenue, a measles epidemic that claimed two young lives at the Providence and a severe earthquake.
By the turn of the decade, only one of Viard's Sisters remained. In charge of both the Providence and St Mary's School, she contracted TB and had died 18 months before the three Sisters of Mercy arrived.
Bishop Viard wasted no time in appointing Mother Bernard as superior of the convent and schools and Sr Augustine as her assistant, insisting that their ministry be self-supporting. Before the year's end, three young women who had helped in the schools were received as novices.
In 1863 the community welcomed Sr Camillus Heffron from Auckland. She had sailed with Bernard and Augustine from Carlow. By now, the Mercy community in Wellington totalled six professed sisters and a novice.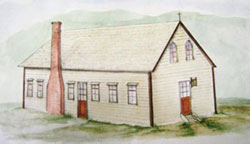 The next 10 years saw steady growth. A two-storey accommodation block was added to the convent, and a successful bazaar – Wellington's first – raised funds for a new dining room and dormitory at the boarding school. Care for a growing number of European orphans, whose parents had died or were ill, and who unlike Maori orphans received no government allowance, posed a new challenge for Bernard and her community.
After Bishop Viard died in 1872 and both she and Augustine fell ill, Mother Bernard persuaded the Vicar General to seek help from Bishop Goold in Melbourne, where two Mercy convents had been founded by Ursula Frayne, one of Catherine McAuley's first 11 companions.
Much against her wishes, two sisters accepted the invitation – English-born Cecilia Benbow and Australian Xavier Butler. Welcomed in July 1873 by Wellington's administrator, Bishop Moran, they brought with them new energy and talent.
In July 1874, Mother Bernard surprised the community by heading with her long-time friend Sr Camillus for the West Coast mining town of Ahaura (near Reefton), to open a convent and run a recently established school. But her plans did not succeed, and after failing to gain readmission at Bermondsey, she returned to spend the last 16 years of her life at St Mary's Convent in Auckland.
Mother Bernard contracted typhoid twice in the Crimea and bore the marks of frostbite for the rest of her life. She is remembered as a courageous nurse and a talented teacher.
Click here to read more about Mother Bernard Dickson's remarkable life.