Celebrating our story
April 12, 2013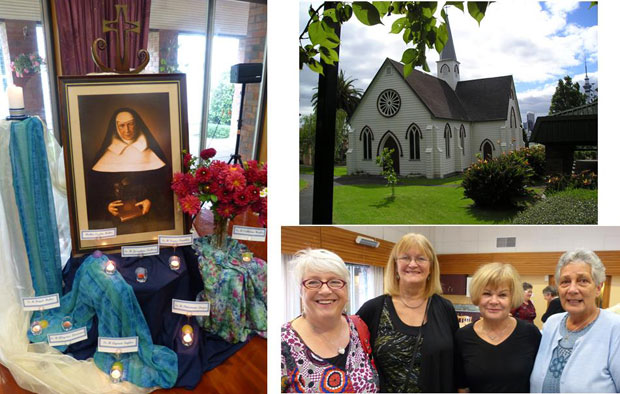 Sisters of Mercy and companions in mission gathered at St Mary's Convent in Ponsonby on the first weekend of April to mark the 163rd anniversary of the arrival of the first Sisters of Mercy in Aotearoa New Zealand – the first religious sisters to come to this land.
A ritual of remembrance and thanksgiving in the Cecilia Maher Room was followed by a shared breakfast in the convent dining room.
With a focal point honouring Mother Cecilia Maher and her seven pioneer companions, who arrived in Auckland after their eight-month voyage on April 9, 1850, the ritual also named ministries in which Nga Whaea Atawhai o Aotearoa are currently engaged and those which now report to Tiaki Manatu Sisters of Mercy Ministries New Zealand.
Featured in the ritual was the historic chapel, which adjoins the convent, built by Mother Cecilia Maher and blessed by Bishop Pompallier in 1866. The chapel is currently being renovated, with a new spire and roof almost completed.
"The last major renovations in the 1970s were assisted by generous donations from past pupils of St Mary's College," recalled Dennis Horton of He Waka Tiaki, the national mission team, who welcomed guests to the celebration. "This time round the cost has been borne by the Congregation. The Sisters are aware that this is a taonga of great significance and their hope is that the building will be sound for another 100 years or more."
Pictured above at the ritual are companions Kath Deady, Carmel College, Carol Adamson, St Mary's College, Ann Coughlan, Waiatarua Mercy Parklands and Priscilla Kohlhase rsm, Te Ngakau Waiora Mercy Spirituality Centre.
From the time she opened her first House of Mercy in Dublin in 1827, Catherine McAuley, described the works of mercy as the business of the lives of all who shared her dream of relieving the sick, the poor and the forgotten. Within a space of just over 20 years, that same vision of mercy had reached to the other side of the world.
Click on the links to read more about this journey or to watch a video about the spirituality of the founding sisters of Aotearoa.