Celebrating a precious legacy
June 14, 2011
Sisters of Mercy gather to mark 150 years of service in Wellington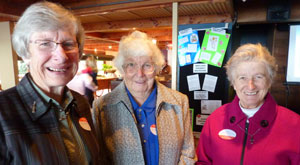 Celebrations included a luncheon on June 12, and a Mass of Thanksgiving at Sacred Heart Cathedral on June 14.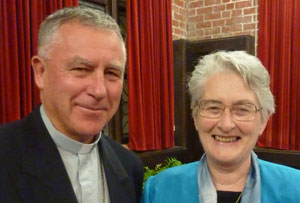 Congregation Leader, Anne Campbell rsm said the event is a chance "to wrap our memory cloak around us, and to slip into the folds of a precious legacy. This is a time to bow our heads in gratitude and to raise them to welcome new horizons of Mercy today."
It's a century and a half since the first Sisters of Mercy arrived in Wellington on June 14, 1861. The trio made the week-long trip by steamer from Auckland in response to a request from Bishop Philippe Viard to save a mission on the verge of collapse.
Leading the group was Englishwoman Mother Bernard Dickson, who had served with a group of Irish Mercy sisters, nursing wounded soldiers in the Crimean War before being invalided home after suffering frostbite and two attacks of typhoid.
With her were Irish-born Sr Augustine Maxwell, who had journeyed with her to Auckland in 1857, and a young French postulant, Sr Marie Deloncle.
In Thorndon, they took over the small school and the Providence, an orphanage for Maori girls, which had been staffed by four young women who had worked with Bishop Viard since his arrival in the city in 1850. From these small beginnings, the Sisters of Mercy developed ministries in many parishes throughout Wellington and Palmerston North.
Their work included founding more than 40 schools in the two dioceses and taking over many others as the need arose. The Sisters of Mercy continue to own two colleges for girls – St Mary's in Thorndon and St Catherine's in Kilbirnie.
Their healthcare ventures included nursing in a temporary hospital during the Great Flu Epidemic in 1918, and staffing the Mater Misericordiae Hospital in Palmerston North for 50 years, between 1950 and 2000.
Proceeds from the hospital's sale were channeled into healthcare ministry for the elderly.
The care of young children which began with the Providence in Thorndon moved in 1910 to an orphanage in Upper Hutt, now the site of Mercy Villas, where 41 units, flats and apartments provide supported accommodation for older people in need of income-related rental housing.
Sr Anne Campbell praised the generous readiness "to divide and share" shown by Auckland's foundress, Mother Cecilia Maher 150 years ago.
"Today we're able to breathe in the spirits of those who have danced the path of Mercy before us; to salute and celebrate the rhythm of their courage, creativity, passion and perseverance."